I will wait.
Wait for you to run to your drawer and grab a spoon.
You are going to need it, you will want one.
Ready?
Dig into this bowl of homemade chocolate peanut butter ice cream! Baskin Robbins eat your heart out!
Get Your Chef on, round 7... Chocolate style. Well you know what goes amazingly drooling with chocolate? Peanut Butter! I have been crushing on ice cream lately, so I knew I wanted to get my swirl on with this combo! I have to tell you...this is no joke, back for fourths, on the real..the best ice cream you will feast on!
Chocolate Peanut Butter Ice Cream:
2 cups half-and-half
1/4 cup unsweetened cocoa powder
1/2 cup sugar
pinch of salt
1/2 cup smooth peanut butter
Whisk together the half-and-half, cocoa powder, sugar, and salt in a large saucepan. Heat the mixture, whisking frequently, until it comes to a full, rolling boil (it will start to foam up). Remove from the heat and whisk in the peanut butter, stirring until thoroughly blended.
Chill the mixture thoroughly, then freeze it in your ice cream maker according to the manufacturer's instructions.
Source: The Perfect Scoop by David Lebovitz
Now, see those chunks of peanut butter just chilling as cool as can be in that ice cream?
6 tablespoons peanut butter
2 tablespoons powder sugar
Mix peanut butter and sugar. Line a plate with plastic wrap, spoon off little bits of the mixture. Freeze the patties. Fold the peanut butter patties into the ice cream as you remove it from the machine.
Enjoy, scoop after scoop!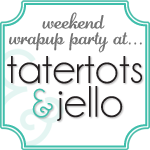 Linking up:
My Favorite Summer Dish Party