Well hello there my pretty!
Park your broom over there, grab a goblet of witches brew and check out some fun witch projects! First up... these oh so witching wicked Witch's Broom Goodie Bags!
Attach this fun printable for a quick and easy teacher goodie bag!
I wish I could take all the credit.. the tag, all me. Those cute bags, that idea came from the one and only Martha Stewart!
HOLY WICKED! Check out these 12 ideas from my girls!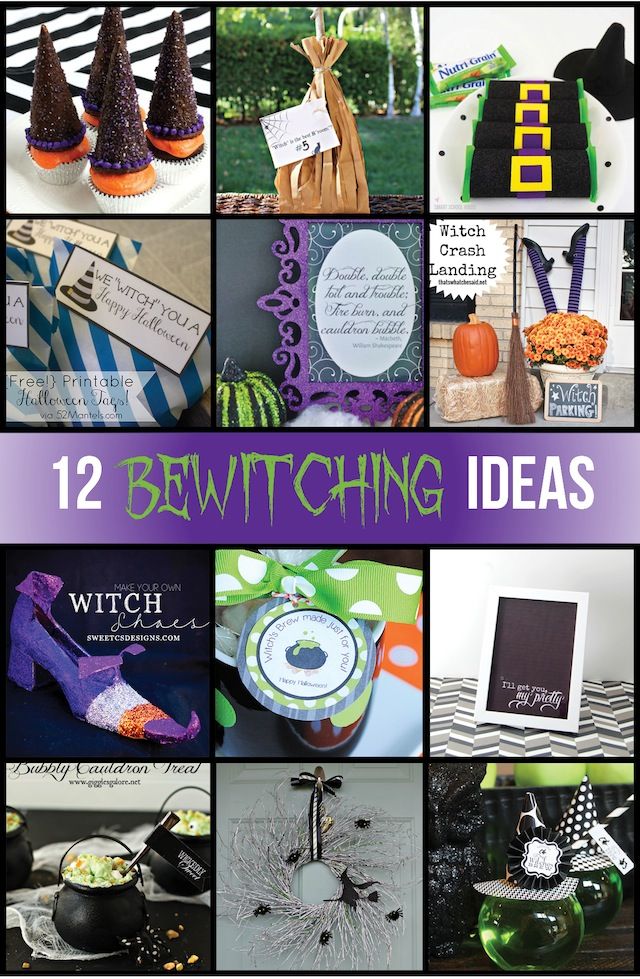 Get out of Witching Town...
Martha is in the house- say what?
The folks at Martha Stewart wanted to get in on the fun Halloween action and share their most recent Halloween magazine, a pumpkin witch's cauldron tutorial AND....an AWESOME giveaway of Martha Stewart Halloween crafts!
MARTHA STEWART PUMPKIN CAULDRON TUTORIAL
• large pumpkin • keyhole saw or serrated knife • fleshing tool • drill • sisal rope • 3 eyebolts, with washers and nuts • 3 long, straight branches • 20-gauge wire • S hook • outdoor stake light (with yellow or orange bulb) • twigs • sturdy glass bowl • dry ice and protective gloves
Cut top off pumpkin, using saw.

Hollow out pumpkin with fleshing tool.

Drill 3 equidistant holes about 2 inches below opening.

Cut 3 lengths of rope to hang pumpkin.

Tie 1 end of each rope to an eyebolt.

Push eyebolts through holes in pumpkin; secure with washers and nuts.

Prop branches in a tepee shape, and secure at top with wire; thread wire inside top to hang S hook.

Hide visible wire with rope. Knot pumpkin's rope ends together, and hang from S hook.

For "fire": Insert stake light into the ground, and cover it with twigs. For "mist": Put glass bowl with dry ice inside pumpkin; add some water. (Wear gloves when handling dry ice.)
Sources: Keyhole saw,from $5.50; natural sisal rope (65495), 3/8 inches by 50 feet, $9; eyebolt with nut, 1/4 by 4 inches, $0.50; cut washer, 1/4 inches, $2.50 for 25, homedepot.com. fleshing tool, $4.50, ceramicsupplyinc.com. Panacea 20-gauge paddle wire in Green, $3.50, createforless.com. Thomas and Betts stake light, $8, amazon.com. dry ice, dryicedirectory.com for locations.
Photo by Lucas Allen. Courtesy of Martha Stewart Halloween Special Issue. Copyright ©2013.
THE BEST PART?! Now we're giving away some AWESOME BOO-TIFUL Martha Stewart Halloween goodies! Enter to win all the goodies in the image below simply by following these amazing blogs below via Pinterest. Enter in Rafflecopter to win!
a Rafflecopter giveaway