Are you ready?!
It's time for Round 3 of Get Your Chef On!
The GYCO ~ Coconut winner was...
Okay, so here's how it works. Every two months, we will post the secret ingredient for the coming round of Get Your Chef On. You have one week to sign up, then posts go live one week after sign up ends.
Join in as often as you like!
One week after posts go up, Jen and I will share everyone's creations on our blogs and announce the winner for that round. Winner will get ad space on each co-host's blog for two months (until the next round of GYCO). Additional prizes will pop up now and then too!
To join Get Your Chef On -
Link up your blog to the linky list below. We'd love to know who's cooking along with us this month!

Share a NEW recipe post on your blog that features the secret ingredient. Make anything you want.

Follow both your co-hosts: Four Marrs & One Venus and White Lights on Wednesday

Grab a Get Your Chef On button and promote the event once - on your blog, Facebook, and/or Twitter - before your entry post goes live.
This month's secret ingredient:
Peanut Butter
Sign up ~ September 4th to 11th

Posts go Live ~ September 18th

Co-Host Features & Winner Announcement~
September 25th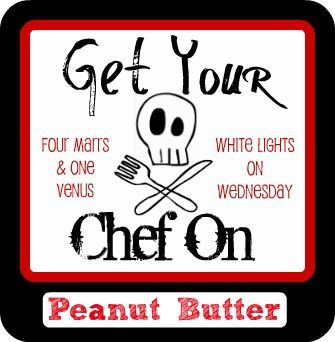 <div align="center"><a href="http://whitelightsonwednesday.blogspot.com" title="White Lights on Wednesdays" target="_blank"><img src="http://i1189.photobucket.com/albums/z421/WhiteLightsonWednesday/GetYourChefOnPB.jpg" alt="White Lights on Wednesdays" style="border:none;" /></a></div>