Let's Hear it for the

Lemons

!
So the "Get Your Chef On" Cooking Challenge is in full force!
Missed the action this round? Hit the next one in July!
What is GYCO? Find out more

Here

!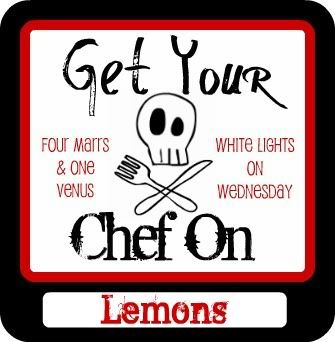 The Secret ingredient that was assigned.....
Did you know that Lemons:
Get rid of ants
Squirt some lemon juice into holes and cracks where the ants are coming in. Place small pieces of lemon rinds or peels around the house.
Polish chrome
Got dull chrome faucets? Simply rub lemon rind, rinse and dry with a paper towel.
Whiten nails
Soak your fingertips in a mixture of lemon juice and water (1/2 cup lemon juice to 1 cup of water). You can also rub lemon rind on the nails to whiten them.
So about 2 weeks ago I was chatting with a great friend of mine!She started to tell me "Jen you have to
make these pancakes, they are so good!" I said "Oh Yeah? What kind are they?" She said the magic word that starts with "L"...."They are Lemon Ricotta with Trader Joes Lemon Curd!" I got all excited.."Toni, I have to make something for this Challenge with Lemons! This is perfect!"
And that was that!
Thank you T-Dawg!
Lemon Ricotta Pancakes with Lemon Curd
3/4 cup all-purpose flour
1 tablespoon baking powder
1/2 teaspoon ground nutmeg
1/4 teaspoon salt
2 tablespoons sugar
1 cup ricotta cheese
2 eggs
2/3 cup milk
1 lemon, zested and juiced
Butter, for griddle
1 (11-ounce) jar prepared lemon curd
Fresh raspberries, for garnish
Confectioners' sugar, for garnish
Preheat a nonstick griddle.

1. Combine flour, baking powder, nutmeg, salt, and sugar in a small bowl.

2. Whisk together the cheese, eggs, milk, lemon juice and zest in a large bowl.

3. Whisk the flour mixture into the wet ingredients until just combined.

4. Empty the contents of the

l

emon curd into a small saucepan and warm over low heat. Alternatively, remove the lid and place in a microwave oven on 50 percent power for 2 minutes, stopping after 1 minute to stir the curd.

5. Brush the hot griddle with butter. For each pancake, pour approximately 1/4 cup measure of the batter on the griddle and cook on both sides until light golden brown. Repeat until no batter remains.




Drizzle a few tablespoons of the curd over the pancakes, top with fresh raspberries, and sprinkle with confectioners' sugar. You can also drizzle a little maple syrup over to give it some sweetness.



Complete with Coffee and O.J.
Enjoy!