Pre-Heat your oven to 350 and soften your 2 sticks of butter:
Dump your butter, 1/2 C Sugar, 2 C Flour in mixer:
Mix that up until it is all nice and in a dough ball....
(This is where I should have watched my 5 year old a little better....boy did he want to mix it up fast!)
Next press your dough in a 9 x 13 pan, bake for 15-18 mins.
While that is baking, now lets whip up the filling!
(I clean out the bowl and change my attachment to the wisk)
Crack your eggs in the bowl and wisk them well.
Add 1 1/2 C Sugar, 1/4 C Flour and mix well
Take those lemons you just finished zesting over the mixture, and juice those babies!
Pour your lemon juice in your bowl and mix away! Your crust should almost be done now!
BEEP BEEP-Your crust is done! Take it out and pour your filling in
Now bake for 20 mins. and Bam it should be firm and done! (If filling is still jiggling after the 20 mins. then keep adding mins. and checking it)
Let cool for 5 mins. before sprinkling on some powder sugar
Now cut a HUGE piece and enjoy while watching your favorite show!
(Mine is going to be The Bachelor tonight, I need to catch up) Yum!!
Thank you again to Toni and her Sister-In-Law for passing on this great Lemon Bar recipe! Enjoy!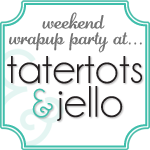 Pin It