These are so much fun, and so dang cute I can't help myself! The possibilities are honestly endless with mod podge and scrapbook paper! I decided to try (first time ever owning a can of mod podge-hello!) to do some wood letters. I bought an X and O from Michaels, along with some cute scrapbook paper. I have to say it went fantastic...so back I went to Michaels because I had to do more!!! This time I grabbed some photos to share with you all in case you would like to give this a try! So sit back and enjoy the mod podge fun!
Items you will need:
Wood Letters ($3.22 each)
Scrapbook paper (your choice)(.25 each)
Mod Podge($6.00)
Foam Brush(.39)
Black Paint (if you want to do the distress look)(.59)
Sand Paper(I had)
Scissors(I had)
Total Cost of project for me was about $20.00
First grab all your goodies!
Now pick out which scrapbook paper you would like to use for your "L"
Place the paper print side down, grab your "L" and make sure you place it so when you flip the paper around your "L" will be going the right direction. Once you are certain, trace your letter.
Here is your traced letter! Now grab your scissors
Now, when you start cutting your letter, take note that I didn't cut right on the line. You want to cut a little more on the inner side of the pencil line, this will help your paper letter fit better on the wood.
Now place your cut out paper letter back on your wood. Trim as necessary.
Just so you know.... this is OK! That is what's so fantastic about this project! You can't mess up so have fun with it!
Alright, crack open that mod podge and work it! Amazed how little of this stuff you actually use! I am thinking my jar will last me many months! Now that you are all mod podged up, slap that paper letter on!
And...Check that Beaut out! Press down hard and make sure it is smooth all the way to the edges! Let that baby dry for about 15-20 mins!
Now grab your O.V.E. Letters and do the same for them.
Eeekkk! How cute are they!?
OK, next get out your sandpaper.
Sand your little heart out! Rough those edges up!
I personally like the look of some black paint on the edges, so I went with it. (Water it down a bit)
Get that HOT Mod Podge back out, because it has one more date with our letters! After that last layer just let them dry and that's all! Pretty easy right? And so cute!
I made these for my Great friend Colleen! She is having a birthday soon!
Remember I said the possibilities are endless? I also created one for my friend who just had a baby! I made an "S" for Sofia. I can't wait to deliver that one in exchange for some Sofia Snuggles!
Well that's a wrap! And in short- I Love me some Mod Podge!
Linking: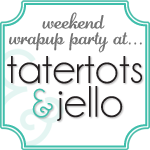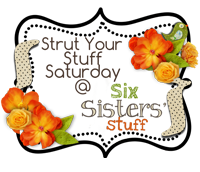 Pin It